FEELING HUNGRY OR THIRSTY?
Go-karting is a great fun filled activity but it also drains a lot of energy.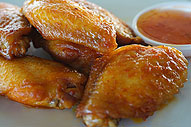 Our activity complex in Koh Samui has everything to help you enjoy a fun and relaxing time with access to areas to top up your energy levels. Why not enjoy a drink on our terrace. The bar will provide you with some refreshments: soft drinks, water, fresh beers, as well as finger foods such as chicken wings, french fries, nuggets for those in need of a snack.
Our open air terrace is the perfect spot to watch Go karting races. The panoramic view from the terrace also offers a nice view of Chaweng Lake. Take in the scenery while sitting at the bar. Three activities are available here so why not join us for a day of fun during your stay in Koh Samui.